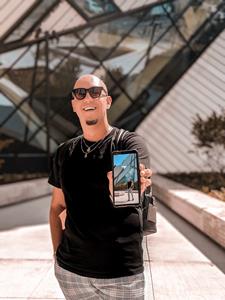 Bengaluru, NFAPost: Toronto-based digital native Steven Branco has 15-years of combined experience in the digital space. In the aftermath of COVID-19, a spate of events has caused a major shift in the industry; many businesses have had to pivot to stay afloat. Having a presence online – whether through a website, social media presence or both – is now a necessity for brands to be successful.
"Businesses HAD to change their strategies in 2020 because of the realities of the global pandemic. While it is a positive shift, we have seen a flood in the online market, especially on social media. The most important question is: how will you continue to stand out online while working towards your business goals?"
Steven Branco shares with us the 5 game-changing lessons to bring into your online strategy in 2021.
Be Consistent
Whether you are talking about branding or posting on social media… consistency is key. "Creating a brand your customers can recognize and count on is extremely important in the digital space," says Steven Branco. "Posting on a regular schedule will not only help expand your online network, it will also help to foster brand loyalty; be reliable, not predictable."
Content is King
In this day and age on the internet, content really is the key to success. "Engaging content is authentic, creative, and adds value to your community," says Branco. "Video content is going to continue to be extremely popular in 2021, but the most important content lesson is to be mindful of the messaging," Branco says that it's very, very easy for a message to come across as tone-deaf given the realities of 2020, and you don't want your brand known for being insensitive.
Authenticity Builds Relationships
Your online presence should be about more than just the product or service your business provides, consumers want to get to know the brand as a whole. "People connect with people," says Steven Branco. "Who are you? What do you stand for? What is a day in your shoes like? Build meaningful relationships and foster brand loyalty by being authentic with your audience."
Invest in Your Business
Whether it is having a website built or advertising, investing money back into your business is always money well spent. "Focus on digital efforts for 2021; invest in areas such as content creation, influencer marketing, and digital training," says Branco.
Learn to Listen
Listening to your consumers is crucial to online success. "Engage in conversations with your audience, ask questions and really listen to the feedback they give you," says Steven Branco. He emphasizes that this will not only gain you valuable insights into the market – identify a gap your business can fill – but it will also foster brand loyalty.